There is a countdown to spring posted online, that tells me that there are 27 days and 12 hours until spring. Indoors, I am gathering my flowerpots and small recylced containers for indoor planting. It's important to remember to clean, well any flower pots that may have been previously used for planting, to prevent mold and bacteria from harming the new seedlings.
Pots can be cleaned in a solution of one part bleach to nine parts of water. I use my laundry for this! I have a view to my snow covered yard from my workshop, so that's inspiring! I have read that terra cotta pots can be baked at 200 degrees in the oven for an hour, but I have never tried this, and am nervous about whether it might emit fumes? Has anyone tried this?
My butterfly flower seed mixture has happily sprouted – I am not being too careful with these, as they will just go in the ground when they are ready – where there is a blank space! I have not broken them into separate planters!
The little lemons on my lemon plant are still getting bigger – today there are about 30 of them, the largest about 1 cm long on an 18 inch diameter plant. I've never grown one of these before and I'm not sure whether these will all mature, but it's still pretty cool.
The dwarf tangerine tree has much healthier looking darker leaves and is just beginning to flower. I will repeat my paintbrush pollinating of this tree when the flowers are a little bigger. It obviously worked for the lemon tree.
In the meantime I am again perusing flower catalogs. While I know it is easy enough just to buy a few big trays of seed geraniums and petunias from the garden centre in May, I am enjoying finding the unusual varieties that I won't see when I am wheeling my shopping cart around the store.
Today, I'm just ordering a few Annual seeds from Vesey's. My flower garden is primarily filled with perennials, but my pots are 50% annuals. I am ordering some bright colour as a starter…..
I always plant petunias for a pop of colour here and there, and I enjoy the trailing Wave varieties in my planters. I am ordering "Tickled Pink" – which is a climbing petunia with a dark pink blossom.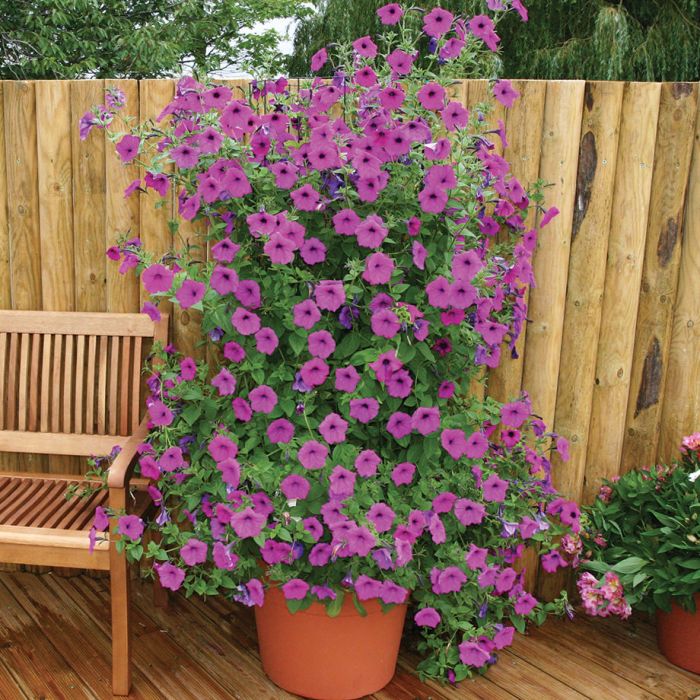 I never see Nicotiana in my local garden centres, so I am purchasing "Perfume Mix" – which are described as of 7 different colours, fragrant and 14-16″ high. I know that the scent of the "tobacco" plant is supposed to repel mosquitoes, particularly at night when the scent is stronger – so I will be starting these indoors to put in my flowerpots on my back patio – which is terribly mosquito-y at night! Nicotiana requires full sun to part shade – and this area becomes fully shaded in the summer, but is sunny in the spring before the tree leaves fill in – I can always move the pots to the sunny areas later!
For Geraniums (pelargoniums) last year I just used one shade of deep pink for all of my pots – I have to say, I was finally tired of this colour by the end of the summer. This year I am ordering the Inspire Series – which is new. It is described as a showy geranium with 4″ blooms and green and chocolate foliage. They are early to bloom and come in a mix of 4 colours (apple blossom, scarlet red, white and salmon). I'm hoping this mix of colours will break me of my pink fixation.
For my shady flower pots and baskets I have ordered Black Dragon Coleus with rumpled leaves in deep purple/maroon.
I'm not sure why my impatiens and begonias from seed have never been successful, so I will leave them off my list. These four seed varieties should keep me busy. I have little enough window space available with the vegetables and perennials that I am ordering as well! Happy spring countdown!!
I'd love to hear if anyone is starting seeds indoors, what are you starting?