The other day I had to pull up some tomato plants early. They were loaded with green tomatoes, and I had always wanted to make a green tomato relish for hot dogs – so I gave this recipe a try. Don't worry though, I still have plenty of tomato plants ready to make sauce and salsa in another few weeks. It's almost time.
This recipe is based upon the Bernardin Recipe – but I changed up the spices just a little. It yields about 6 250 ml canning jars. The diced vegetable mixture needs to sit with pickling salt in the refrigerator overnight before preparing -so this is a 2 day project.
Green Tomato Relish Ingredients:
10 cups finely chopped green tomatoes
3 sweet peppers diced (I had one each of a yellow, orange and red pepper)
2 onions – I used one white and one red! – diced
1/4 cup pickling salt
2 cups white vinegar
1 1/2 cups brown sugar
1 clove garlic minced
2 tbsp dry mustard
1/4 tsp ground cloves
1/4 tsp ground cinnamon
1 tsp celery seeds
1/2 tsp salt
Green Tomato Relish Method:
Day 1! – Chopping the vegetables:
Dice green tomatoes, onions and peppers.
Place in a non-reactive bowl (I used a ceramic mixing bowl, you could also use a stainless steel pot). Mix and cover with pickling salt. Cover bowl and place in refrigerator or in a cool place overnight.
Day 2! – Getting ready:
Prepare 6 250 ml jars or equivalent. I always prepare a few extra sizes in case there are leftovers, or I want to do a bigger jar for my own refrigerator. I like the smaller jars, if I am giving the relish away as gifts to family.
In a large stainless pot, submerge all jars in water. Bring to a boil and sterilize the jars for about 5 minutes.
Reserve the hot water to warm the sealing discs just before canning. The sealing discs are not to be boiled – they just get warmed in hot water so that the adhesive ring becomes "sticky", when it's time to seal the jars.
I always boil my stainless ladle, spoons and tongs as well, just to make sure everything is germ free. I spread some clean paper towels on my counter, and keep a silicone oven mitt at the ready for when I have to grab something hot.
| | |
| --- | --- |
| | Fox Run Home Canning Tool Kit Home canning just a got a little easier with this 5-piece set! These terrific tools help make preserving simple and safe. Feautres:Includes canning funnel, tongs, jar lifter, bottle wrench and magnetic lid lifterStay cool, vinyl coated, non-slip gripsDishwasher safe |
Well.ca canning tools
Preparing the pickling liquid:
In a large stainless steel pot, mix vinegar, brown sugar, minced garlic, dry mustard, ground cloves, ground cinnamon, celery seed and salt.
Rinse tomato mixture and drain well. The pickling salt should have drawn out some of the moisture, and then the mixture should be pressed a little to remove some of this liquid.
Bring pickling liquid to a boil, mixing well. Add in vegetable mixture, and simmer for one hour, stirring constantly. Cook until the tomatoes become transparent.
Canning the relish:
Ladle the relish into prepared jars. Press down evenly – leaving about 1/2 inch of "headspace" or clearance in each jar. Ensure, that solid pieces are covered with the vinegar mixture in each jar by pressing down with non-reactive spoon.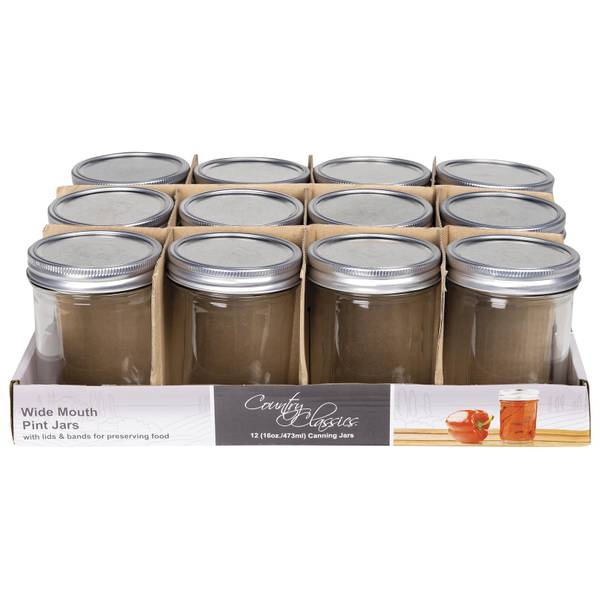 23% OFF Country Classics 12-Pack 1 Pint 16 oz Wide Mouth Glass Canning Jars. Offer valid online 9/23/2021 – 10/3/2021. No coupon necessary.
This recipe yielded 5 full 250 ml jars for me and one not-so-full jar which I keep in the refrigerator. When jars are filled to 1/2 inch, clean the rims with a paper towel. Warm the sealing discs and then place over the top of each jar. Place the rings around each jar and tighten to just fingertip tight.
Place jars in water – upright with at least one inch of water above surface of jars. Boil for 10 minutes.
Remove jars from water with tongs, and keep upright to cool for 24 hours.
We enjoy this relish over hot dogs and hamburgers, but I also mix it into pasta salad when a bit of zip or texture is required. Now I think I'll relax and figure out what to pickle next.