Our oldest son's lovely girlfriend dropped by yesterday and was excitedly telling me about her dad's growlight project. Her family is growing basil and other herbs indoors and is creating an ideal growing environment for their winter crops. I had some self doubt, – perhaps I need to try the grow lights….. but then I looked at my own happy basil, and thought, well I have enough on the go for now – but then I wondered…..
How will my lemon plant grow fruit if I have no bees indoors? Well, I'm grateful not to have bees indoors, but how did it never occur to me that my lemons will not produce fruit without fertilization. The plant that I selected had a variety of little white blooms – at the time not quite in flower. Now, 2 weeks later, the flowers are in bloom.
I am fertilizing each one with a small craft paintbrush. This is a delicate task for an old person like me, so I will use my reading glasses and work slowly and patiently.
Fertilizing lemon flowers involves transferring some pollen from the little filaments within the flower – if the pollen is ready, a little bit of yellow dust should be on the surface of the brush. Then, lightly brush the stigma – the top of the pistil at the centre of the flower. If the flower is ready for fertilization it should be a little bit sticky. I just lightly dab the pollen, and then the stigma – around each flower.
Somehow, it doesn't feel right doing this. Is this illegal or immoral?
I will do this to each flower for the next few days – leaving my paintbrush nearby to remind myself!
In the meantime I will water and mist lightly, and rotate the plant in the window to maximize sunlight. It would definitely like to be out somewhere in full sunlight, but this will do for now!
In the meantime I am still dreaming of starting some plants indoors. I have been shopping at Well.ca and spotted their Modern Sprout Garden Drop In Pumpkin planter with seeds. I am proud to be an affiliate for Well.ca, but mostly I am looking forward to growing and planting! The picture below is of a popcorn seed planter, but I am considering ordering the pumpkin seed and watermelon planters to start indoors. I will keep you posted about that.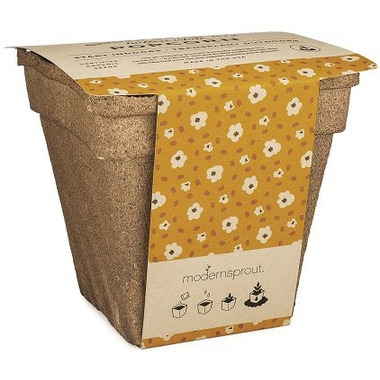 I will keep you posted about my lemons! If anyone has any advice about growing and fertilizing citrus fruit indoors, and growing herbs and greens indoors without grow lights, I'd love some feedback. Enjoy the winter's day!
This site contains affiliate links but mostly gardening, growing and food.